I recently had the pleasure of chatting with Dr Michael Rivera for his Arch and Anth Podcast, in an episode that gives listeners a glimpse of some of GLO's ongoing research. Michael is doing some really important work in making aspects of archaeology and anthropology accessible the wider public, and I really enjoyed chatting about our current research with him.
Some topics we touched on were:
~ The flows and gaps between different bits of orangutan conservation.
~ The tensions between small-scale, rural realities in Borneo and Sumatra and the idea(l)s and practices of international conservation.
~ The humanitarian imaginaries and ideas of planetary ownership/responsibility that often shape Western ideas about helping and saving the orangutan (and other things!).
~ Ethical debates over orangutan rehabilitation and conservation.
~ The promises and challenges of interdisciplinary and anthropological engagement with the wider world.
There was only so much I could say (or remember to say, or say coherently!) in a podcast, so I've also put together a short list of further reading on some of the topics we discussed for anyone who's interested. There's lots more where these came from, so feel free to get in touch if you'd like even more suggestions!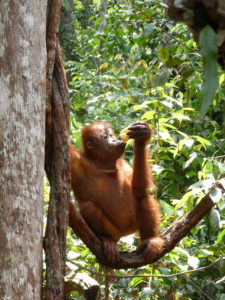 Further reading
Relations with orangutans among rural communities in Borneo and Sumatra 
Although some indigenous groups tell stories about or have special ritual or 'taboo' relations with orangutans (as they do with other animals – birds, dragons, snakes, fish, deer, etc.), most rural people in and around orangutan habitat do not see them as particularly special or interesting. Human-orangutan conflict is an increasing issue as shrinking forests push different species into closer or more regular contact. Hunting, consumption and poaching of orangutans are also drivers of orangutan population decline.
Local perceptions of orangutans:
o   Campbell-Smith, G., H. V. P. Simanjorang, N. Leader-Williams, and M. Linkie. 2010. 'Local attitudes and perceptions toward crop-raiding by Orangutans (Pongo abelii) and other nonhuman primates in Northern Sumatra, Indonesia'. American Journal of Primatology 72:866-876.
o   Sidu, N., J.N. Machau, M.B. Balang, and M. Gumal, eds. 2015. Orang-utan Folklores and Iban Communities. Kuching: Wildlife Conservation Society-Malaysia Program.
Human-orangutan conflict, hunting and other local drivers of population decline:
o   Davis, J. et al. 2013. 'It's Not Just Conflict that Motivates Killing of Orangutans'. PLoS ONE 8(10):e753753.
o   Meijaard, E., D. Buchori, Y. Hadiprakoso, S. S. Utami-Atmoko, A. Tjiu, D. Prasetyo, Nardiyono, L. Christie, M. Ancrenaz, F. Abadi, I. N. G. Antoni, D. Armayadi, A. Dinato, Ella, P., Gumelar, T. P. Indrawan, Kussaritano, C. Munajat, A. Nurcahyo, C. W. P. Priyono, Y., Purwanto, D. P. Sari, M. S. W. Putra, A. Rahmat, H. Ramadani, J. Sammy, D. Siswanto, M., Syamsuri, J. Wells, H. Wu, and K. Mengersen. 2011. 'Quantifying killing of orangutans and human-orangutan conflict in Kalimantan, Indonesia. PLoS ONE 6:e27491.
Orangutan conservation on the ground: progress, problems, tensions
Rural communities – and individuals and groups within them – have responded in different ways to conservation interventions, each of which pursues different strategies for working with local people. There are various success stories that can be found on the websites of conservation organizations, but here are some social scientific analyses of the complications that can also arise in these interactions.
Howson, P. 2014. 'Slippery Violence in the REDD+ Forests of Central Kalimantan, Indonesia'. Conservation and Society 16(2):136-46.
Perez, P.L. 2018. Green Entanglements Nature Conservation and Indigenous Peoples' Rights in Indonesia and the Philippines. University of Philippines Press.
Rubis, J.M. and Thierault, N. 2019. 'Concealing protocols: conservation, Indigenous survivance, and the dilemmas of visibility'. Social and Cultural Geography. DOI: 10.1080/14649365.2019.1574882.
Wadley, R. L., & Colfer, C. J. P. 2004. 'Sacred forest, hunting, conservation in West
Kalimantan, Indonesia'. Human Ecology 32(3):313–338.
Wadley, R. L., Colfer, C. J. P., Dennis, R., & Aglionby, J. 2010. 'The "Social Life" of conservation: Lessons from Danau Sentarum'. Ecology and Society 15(4):39.
Ideas about helping and saving orangutans in the Global North
Chua, L. 2018a. 'Too cute to cuddle? "Witnessing publics" and interspecies relations on the social media-scape of orangutan conservation'. Anthropological Quarterly 91:873-903.
Chua, L. 2018b. Small acts and personal politics: On helping to save the orangutan via social media. Anthropology Today, 34(3), pp.7-11.
Cribb, Robert, Helen Gilbert, and Helen Tiffin. 2014. Wild Man from Borneo: A Cultural History of the Orangutan. Honolulu: University of Hawai'i Press.
Orangutan rehabilitation: dilemmas and debates
Palmer, A. 2018a. Kill, incarcerate, or liberate? Ethics and alternatives to orangutan rehabilitation. Biological Conservation 227:181-188.
Palmer, A. 2018b. Saving and Sacrificing: Ethical Questions in Orangutan Rehabilitation. PhD thesis. London: University College London.
Parreñas, Juno Salazar. 2018. Decolonizing Extinction: The Work of Care in Orangutan Rehabilitation. Durham: Duke University Press.
Wilson Howard B., Erik Meijaard, Oscar Venter, Marc Ancrenaz, Hugh P. Possingham. 2014. Conservation Strategies for Orangutans: Reintroduction versus Habitat Preservation and the Benefits of Sustainably Logged Forest. PLoS ONE 9 (7):e102174. doi:10.1371/journal.pone.0102174.
Recent conservation-social science engagements
Bennett, N. J., Roth, R., Klain, S. C., K. Chan, P. Christie, D.A. Clark, G. Cullman, D. Curran, T.J. Durbin, G. Epstein, A. Greenberg, M.P. Nelson, J. Sandlos, R. Stedman, T.L Teel, R. Thomas, D. Veríssimo, C. Wyborn,. 2017a. 'Conservation social science: Understanding and integrating human dimensions to improve conservation'. Biological Conservation 205:93-108.
Bennett, Nathan J., Roth, R. , Klain, S. C., Chan, K. M., Clark, D. A., Cullman, G. , Epstein, G., Nelson, M. P., Stedman, R. , Teel, T. L., Thomas, R. E., Wyborn, C. , Curran, D. , Greenberg, A., Sandlos, J. and Veríssimo, D. (2017b). 'Mainstreaming the social sciences in conservation'. Conservation Biology 31: 56-66.
Chua, L., M.E. Harrison, H. Fair, S. Milne, A. Palmer, J. Rubis, P. Thung, S. Wich, B. Büscher, S.M. Cheyne, R.K. Puri, V. Schreer, A. Stępień, E. Meijaard. Forthcoming (2020). 'Conservation and the social sciences: beyond critique and co-optation. A case study from orangutan conservation'. People and Nature.