Using Ethnographic Research for Social Engagement: A Toolkit for Orangutan (and Other) Conservationists
 English pdf                                                              Bahasa Indonesia pdf
In recent years there's been a growing recognition that conservation is as much about humans as about nonhuman species, landscapes, and ecosystems. Ethnographic research methods offer one important way of learning about and working with the many social, political, economic and cultural dimensions of conservation. These methods aim to create a holistic understanding of people's everyday interactions; their perspectives on important issues, such as land rights, development, conservation and the state; and—where relevant—their previous or current experiences of conservation programmes, projects and practitioners. But what do these methods involve, and when and how can they be used effectively and ethically by conservationists?
Using Ethnographic Research for Social Engagement aims to answer some of these questions. Drawing on our fieldwork experience and research on human-orangutan-conservation interactions in rural Borneo, it offers an introduction to key social concerns in conservation, an overview of the principles of ethnographic research, a guide to some of its key methods and approaches (illustrated with case studies), and tips on analysing and reporting ethnographic findings. While grounded in a specific Southeast Asian context, it contains material that is more broadly relevant to conservationists seeking to understand and engage seriously with the social complexities that shape their work and strategies.
The toolkit is organised around four themed chapters:
Chapter 1 identifies common challenges faced by conservation projects when seeking to engage local communities;
Chapter 2 lays out some basic considerations and guidelines for planning social research and community engagement programmes in rural areas;
Chapter 3 provides an overview of the principles of ethnographic research, and introduces three main methods – participant-observation, semi-structured interviews, and visual or sensory elicitation;
Chapter 4 offers pointers on analysing and writing up ethnographic data.
N.B. It is important not to assume the right or entitlement to work in specific areas, and any research or interventions should only proceed with the free, prior and informed consent of the relevant communities. We also recommend collaborating with local experts and social scientists – and doing so from the very beginning. However, in situations where this is not possible, we hope that this toolkit will be of practical use to both people working in orangutan conservation and conservation practitioners more generally.
This toolkit is available in both English and Bahasa Indonesia. Its contents may be used, reproduced and/or translated in part or in full. Please give appropriate credit to the authors and the Global Lives of the Orangutan & POKOK projects. Feedback is very welcome and can be sent to Liana Chua, lclc2 [at] cam.ac.uk.
LINKS:
English pdf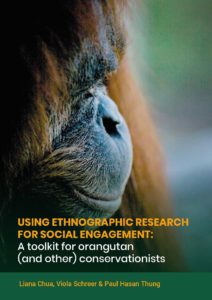 Bahasa Indonesia pdf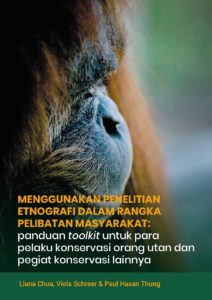 © 2022 by Liana Chua, Viola Schreer and Paul Hasan Thung
Jointly created by the Global Lives of the Orangutan (globallivesoftheorangutan.org) and POKOK (pokokborneo.wordpress.com) projects. Our research has received funding from the European Research Council (Starting Grant no. 758494), the Arcus Foundation Great Apes Program and Brunel University London.
Designed by Ink & Water.